Green Point Stadium
Outer view of the stadium. Compression ring complete, inner bowl complete. Roof construction pending. (Source: Mo Rush)
Good view of the completed seating tiers. Tension ring being put together in the foreground. This tension ring, which will be on the inside of green point's roof, is the secret that will allow this 3500 ton roof to, somewhat amazingly, stay up. (Source: Cape Town Municipality)
The tension ring being layed out across the tiers. I have no real idea how the construction of green point's roof is going to work. I guess we'll have to wait and see. (Source: Cape Town Municipality)
Moses Mabhida Stadium
The arch on the Moses Mabhida Stadium is two pieces away from completion.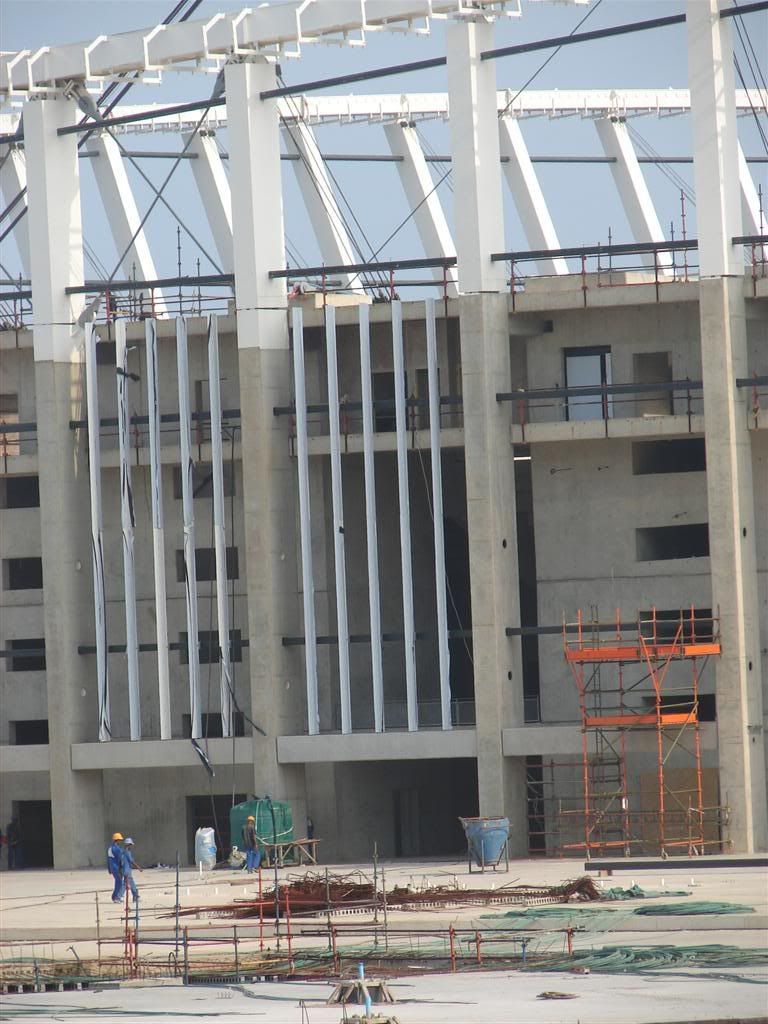 Close-up of the fins forming the facade of the stadium. (Source: Durbsboi)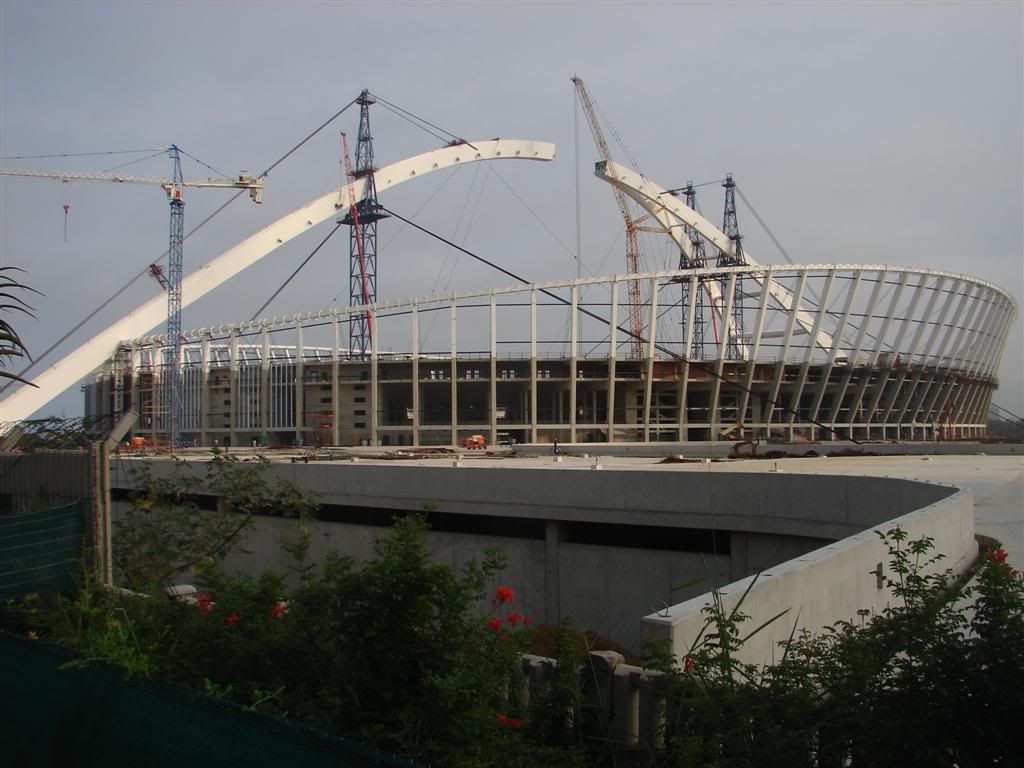 The full stadium. All permanent tierwork is complete. Arch, as can be seen, is nearly complete. The third tier, to be used purely for the world cup, is temporary and will be erected early next year as part of FIFA overlay. (Source: Durbsboi)
Today how the arch is looking. 2 pieces left. By the end of tomorrow we could see a complete arch.

Mbombela Stadium
Unfortunately a freak storm caused a 74m tower crane to topple on the site of the Mbombela Stadium. The damage includes that of a roof bay, 10 precast seating elements and some brickwork. It is not extensive and will take 1-2 months to complete. It will not push back the deadline for completion - June this year.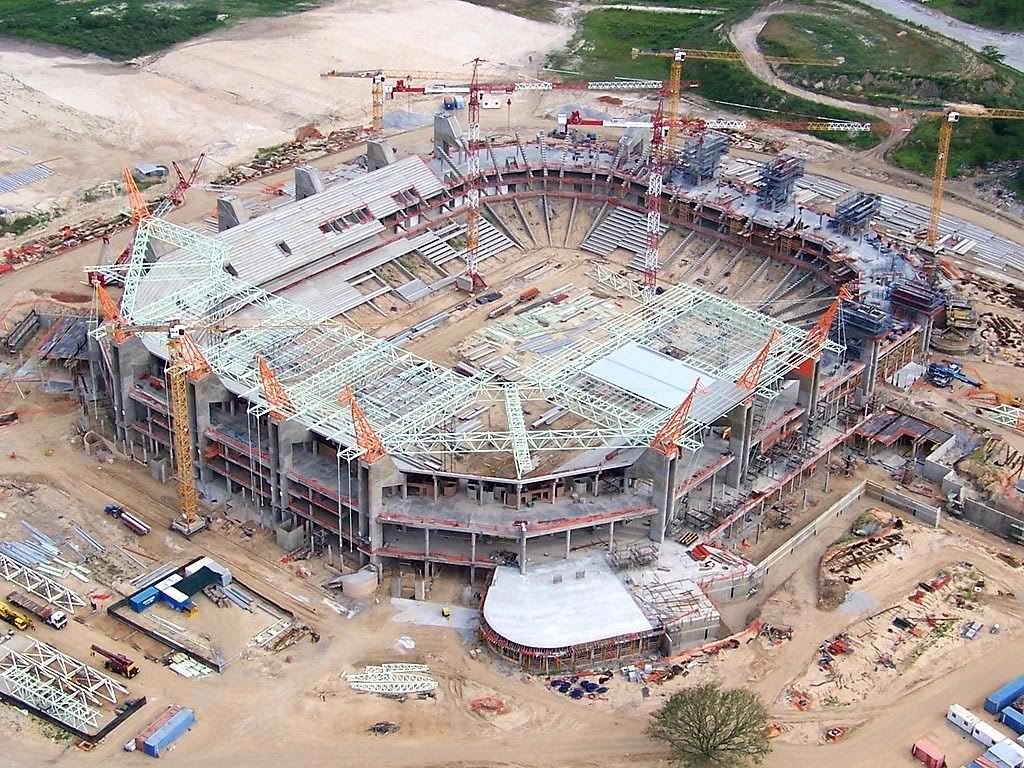 A nice outer perspective of the Mbombela Stadium. Almost half the stadium is now roofed. (Source: Tadpolefarm)
The unfortunate crane collapse. (Source: www.FIFA.com)
Stadium tunnel. (Source: Tadpolefarm)
The stadium in all its splendour. (Source: Tadpolefarm)
Peter Mokaba Stadium
Unfortunately there are no up to date photographs of current progress on the Peter Mokaba Stadium. What I can say is that the stadium is now 78% complete. Roof over the main stand is practically finished, with tierwork also nearing completion.
Soccer City Stadium
The magnificent bowl. (Source: Rulani)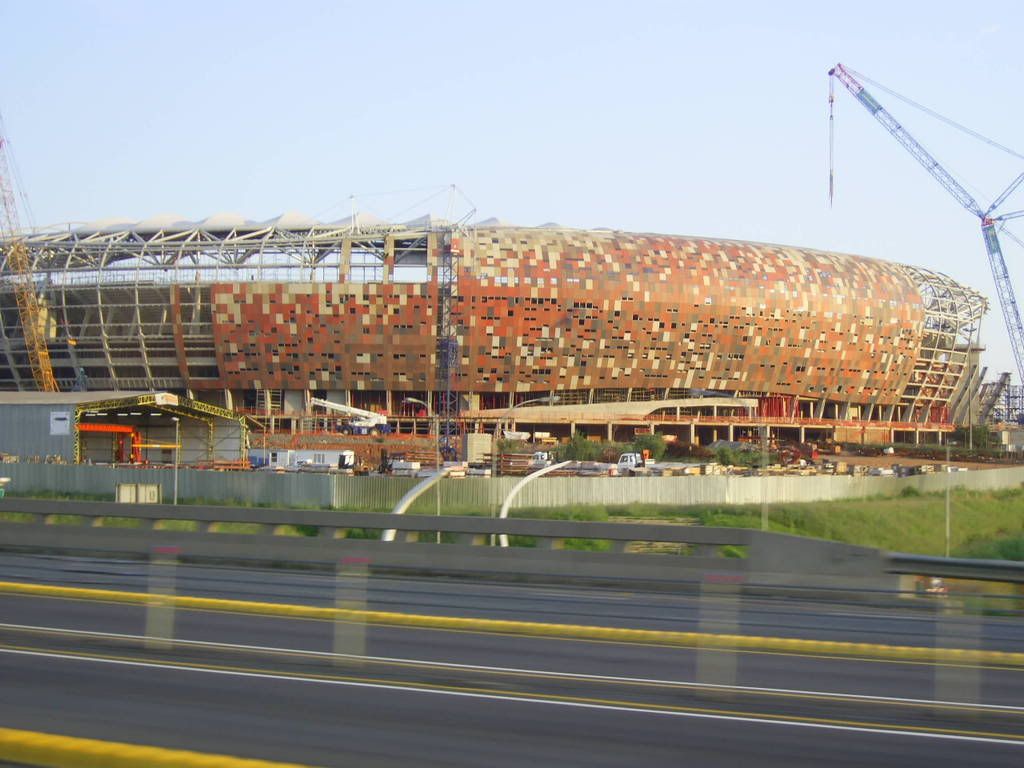 Facade coming along nicely. (Source: Mo Rush)
Loftus Versfeld Stadium
Relatively old image showing the progress on the new roof over the once open pavilion. (Source: Mo Rush)

Things are happening, things are speeding up, things are nearing completion. There are now a number of stadia practically complete for the world cup (other than FIFA overlay). These are Loftus Versfeld stadium, Ellis Park stadium and Free State stadium. These 3 and the 4th being Royal Bafokeng stadium (also close to completion) will be used for the FIFA Confederations Cup™. The other stadiums - the new stadiums - are now all over 60% complete. Here's a rundown of a few images showing the progress. (All pictures have been sourced from SkyScrapercity)